Mr. Hoerner
as drawn by my beloved
Wife, Mrs. Hoerner

---
Hoerner is derived from the German

name Hörner. According to a book on German surnames, Hörner may mean "horn maker". It could also mean "horn blower", "at end of field", or "dweller near mountain peak".

However, the best source for its meaning comes from a cousin's website in Kuhardt, Germany, which is where this branch of the Hoerner family originates from. According to the website, "Hörner = der Hornbearbeiter, bzw. der Hornbläser." This was clarified as follows: "The name of Hoerner or Hornbläser (a Musician) descends from the occupation or the job title. In former times in the Middle Ages, the horns of cattle were converted to drinking cup or other tools. Musical instruments were also made from them, so-called horns = Hörner. Today there are still 'horns', (Hörner = music instrument) but these are out of sheet metal."

An interesting thing to note is that Hörner is the plural of Horn. So "Horn" in German means a single horn, whereas "Hörner" means more than one horn, or horns.

When the first Hörners immigrated to America, the spelling was changed to "Hoerner".
---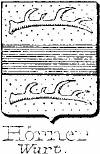 Hörner Coat of Arms
from old German book


Hörner Coat of Arms with Bearers
Arms
Or, a fess azure, two stag's horns, proper, in fess.
Crest
A man issuant, habited azure, trimmed or, chapeau of the last, between two proboscis or.
Motto
1706
(date of registration)

---
From
Kuhardt, Germany
migrated to
Speier, Russia in 1809
migrated to
America in 1900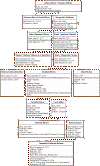 Hoerner Family Tree
Showing Migration
Related Link
►Descendants of Johann (Hans) "Valentin" Hörner
This page goes into more detail of the above tree.

---
Kuhardt, Germany

Kuhardt is a small town slightly south of the Cathedral city and old Palatinate capital of Speyer. As far back as 1464, Johann Hörner was listed as a serf of the Speyer Dom (Cathedral) lands. Today, Speyer has about 42,000 residents. In 1704, Johann "Valentin" Hörner is listed as dying in Kuhardt.

Today, t

he town of Kuhardt has about 2000 residents with 900 families. About 75% are Catholic.


Location of Speyer and Kuhardt, Germany


Old German Map
showing Speyer, Germany
which is the largest town near Kuhardt


Old city map of Speyer, Germany


Location of Political borders and Kuhardt in 1809


1000 year-old Speyer "Dom" (Cathedral)
in Speyer, Germany


2000 Map of Kuhardt, Germany


Kuhardt Coat of Arms
(click for description)


Family Tree from German Book
in Kuhardt showing Johann, born Abt. 1616


Death Certificate for
Johann Valentin Hörner, died 1704
Related Links
►Ancestors of the family Kuhn from Kuhardt
Webpage with some interesting stories about Kuhardt (in German and English)
►Kuhardt Website
Town of Kuhardt webpage (in German)
►RheinlandPfalz
This site gives the history of the Palatinate area of Germany.

---
Migration to
Speier, Russia
From 1797 to 1814, France ruled Speyer, Germany and the surrounding area, including Kuhardt. In 1809, Dominik Hörner and his wife Barbara decided to leave. They migrated to the small town of Speier, in the Beresan District of the Odessa Province of Russia (now Ukraine). The town of Speier, Russia was named after Speyer, Germany. They were some of the many Germans from Russia, who later migrated to the United States.
"On December 4, 1762, Catherine the Great issued a Manifesto inviting Western Europeans to settle in Russia. However, it was her second Manifesto of July 22, 1763, which offered transportation to Russia, religious and political autonomy, and land that incited many Western Europeans, mostly Germans, to migrate to Russia. This Manifesto was issued after the end of the Seven Years' War in which German peasants suffered many losses. Conditions among the German people were very unstable. At that time, the area that is now Germany was a conglomeration of more than 300 principalities and dukedoms which frequently changed hands, and therefore religions, as well. Many German peasants, seeking a way to practice their chosen religion and to improve their social standing, accepted the offer to settle in Russia.
In 1803, Alexander I reissued the Manifesto of Catherine II, prompting another wave of migration, primarily into South Russia. By the mid-nineteenth century the areas of Volhynia, Crimea, and the Caucasus were being settled by Germans. Beginning in the late nineteenth century and continuing into the first decade of this century, settlements were being founded by Germans in Siberia. At the end of the nineteenth century Russia had a population of approximately 1.8 million Germans."
(This information comes from the American Historical Society of Germans From Russia)


Modern day map of Ukraine,
which is where Speier was located


1800s Map of Odessa Province, Russia
Showing Speier, where Hörners migrated to


Picture of Speier, Odessa in 1909.
Click here for more pictures and
information about Speier.


Current town map of the Speier,
now called Pestchany Brod


St. Martin's Catholic Church in Speier (1896)
(steeple was later removed by
the communists in the 1940s;
now a Ukrainian Orthodox church)
Click here for more pictures of the Church.
Bishop Werth
One of the more prominent Hörner cousins who still lives in Russia is Bishop Joseph Werth. He is the Catholic bishop of Siberia and the Russian Far East. His mother is Maria Hörner who was born December 23rd, 1931 in Speier, Ukraine. Maria's father was Dominic Hörner, who was also born in Speier. For more information on Bishop Werth, see the Bishop Joseph Werth Biography.


Bishop Werth ordaining
his own brother,
Klemens Werth
in 2002
Related Link
►The Renner Family
This is a website with lots of information about Odessa (including Speier) and families that lived there.
---
Migration to
America
When and why did the German Russians leave Russia?
"When Alexander II revoked the privileges offered to the Germans who had settled in Russia more than a century earlier, such as exemption from military service, the emigration of the Germans from Russia to the Americas began. 1872 was the beginning of a large wave of emigration of Germans from Russia as a result of the social conditions in Russia. There was a growing sentiment of hostility towards foreigners, particularly Germans, and a policy of Russification was adopted to make the populations in the empire more Russian. Later emigrants left Russia due to worsening living conditions, caused by war and famine." (This information comes from the American Historical Society of Germans From Russia)
Germans that left - or tried to leave - later
Although many Germans left Russia in the late 1800s and early 1900s, many others did not for various reasons. A female cousin of mine remained behind. She said that often the boys in a family would leave (being more adventurous), but their sisters would stay. Eventually she did leave during some dramatic events during World War II. Here is her story:
From 1940 to 1944, German troops occupied the town of Speier, Ukraine. Things were well. Ann, her sister Loretta, and mother Lina left Russia in 1944 as German troops were retreating after their defeat in Moscow. They spent 21 days on a cattle car going to Poland. Lice were as big as the end of your thumb. Russians caught up with them in Poland. Of 350,000 Germans that left Russia, 250,000 were captured and sent to Siberia. Ann, her sister and mother, were put on a 90-car train that was going back to Russia. The train had some problems starting. Russian troops walked along both sides of the train guarding. At night, Lina and her daughters slid off the train and laid underneath. Fortunately, when the train was repaired and started going, it was not yet dawn. The train passed over them and they were not detected.

They lived in Poland for about nine months. At one point, the Russian troops took Lina for a month to help dig trenches. She was barely fed. Ann, 11 years old, went in search of her mother on one occasion. She was not paying enough attention, however, and was captured by Russian troops and sent to live with other girls to clean barracks. The first night, she was sent to the second floor to sleep on straw with the other girls. She did not sleep. The next morning, as she was going walking at the end of the line to go into the barracks, the other girls went one way an she went the other, right out the back door. She fled across a field and climbed over a barbed-wire fence. The Russians saw her and got in their vehicle. But instead of running down the frontage road, she ran across another field and escaped. Bleeding, she still went looking for her mother. She opened the door at one location, only to see a group of Russian soldiers sitting there. She escaped again. To avoid detection by the Russians, she and her sister Loretta would hide in an indentation at the top of manure piles as "high as a house."
A remarkable story about Germans that were deported by the Russians to Siberia is told in the book Though My Soul More Bent: Memoir of a Soviet German.
Related Link
►American Historical Society of Germans from Russia
This is a website about Germans from Russia that migrated to the United States.
---
More
Tour the Hoernersburg Lego Castle