things that matter:
quotes to ponder
family things:
fun things: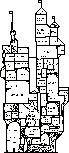 Homeschooling: Easier Than We Thought
In our wildest dreams, my wife and I never imagined homeschooling our children. My two sisters homeschooled theirs, but they had lots of energy.
Then one night, while my wife and I were on a "date" at a local coffee house, we began to talk about how we could spend more time with our children once they began school. "What about homeschooling?", I bravely asked. That would certainly allow more time with the kids.
As we talked, the conversation deepened. We came to realize that we are not merely preparing our children to get into a good college, or have a nice job, or prepare for a pleasant retirement. We are preparing them for eternal life. St. Anthony's Catholic Homeschool was born.
Initially, it seemed daunting. The first year was the hardest: what to teach and how? Now into our sixth year, these are the keys we've learned:
Key #1. Pick an Easy-to-Use Curriculum. One of the tricks is finding a good curriculum to help you know what to teach and when. We use the Mother of Divine Grace Curriculum available through Emmanuel Books (look under "Syllabi"). The curriculum tells you which books to buy and gives you week-by-week lesson guidelines for each grade level. Other good sources for Catholic home school curriculum are listed below.

Key #2. Get the Kids Reading. Once you teach your kids to read, homeschooling becomes much easier. We've found that most homeschool materials are pretty much self-directed and require little parental involvement. So if your kids can read, they can teach themselves. We found that the $20 book Teach Your Child to Read in 100 Easy Lessons works very well. It only takes about 15 minutes a day. One of my sisters, who is a public school teacher with a major in reading, was taught at college that this book is one of the best ways to teach reading. But here's the catch -- it only works when teaching one-to-one -- so it's not much use in public schools.
Homeschooling Organizations
Here are some organizations that provide support for homeschooling families.
National Association of Catholic Home Educators (NACHE)
An organization of homeschooling parents that provides spiritual, doctrinal, and practical information to homeschooling Catholics, those considering homeschooling, and for Catholics forming their children in the Faith.

Traditions of Roman Catholic Homes (TORCH)
An association of lay faithful established to promote homeschooling among Catholic families and to support those families who are engaged in providing their children's primary education at home.

Home School Legal Defense Association (HSLDA)
Although not a Catholic organization, it definitely has a Christian perspective. This site has lots of good information and statistics about homeschooling. If you belong to NACHE, you can get a discount if you join HSLDA.
Other Good Catholic Homeschooling Links